---


Star Trac 4 Series TR Treadmill with 10" Touchscreen Cardio Console
The 4-Series cardio line from Star Trac® is the perfect solution for the hospitality and multi-housing markets. With premium full color flat panel displays, quick select adjustment keys, and optional personal viewing screen, the 4 series provides smaller facilities with the look and performance of a full commercial product.
FEATURES
The 10″ touchscreen display adds a premium look and experience to the Star Trac line. For the facility that is looking for the premium look and feel of a touchscreen console, but doesn't want to pay for embedded TV, media streaming and other add-on features, the 10″ is a great option.

Quick Key selects for speed and incline allow for one-touch changes on the fly

Warm bar provides contact HR and stop button within easy reach of user
Integrated USB port provides charging capability for user devices
Compatible with 8-Series PVS entertainment screens
Contact and telemetry heart rate
Multiple holders for water bottles and user devices
Speed range: 0.5-12.5mph (0.5-20kmh)
Incline range: 0-15%
3 HP DC motor
Star Trac's popular personal fan for comfort
22" (55.5 cm) wide belt
7" (17.7 cm) step-up height
Electrical requirements: 110V/15 Amp standard outlet; or 220V/15 Amp
Powder-coated Steel frame
STAR TRAC 4 SERIES 10″ TOUCHSCREEN CARDIO CONSOLE
USB charging port
Multiple program options
Treadmill includes Quick Keys for one-touch selection of preset speed and elevation settings on the fly
Pre-wired for ECOFIT asset management solution
Pre-wired for PVS entertainment option
OpenHub Consoles
Our affordable, flexible, innovative OpenHub consoles are available on every piece of 8 Series Star Trac. They offer best in class entertainment, fitness tracking and asset management solutions. With the ability to select just the features you want, and add new features in the future, this open platform offers you the ability to have exactly what you want, when you want it.
SMART. AFFORDABLE. FLEXIBLE.
When we set out to design our new console, our philosophy was simple: provide a flexible platform that connects expert partners to provide solutions for every customer for today and into the future. Introducing the new OpenHub™ family of Cardio Consoles. OpenHub™ is a smart, affordable, configurable solution available on Star Trac® and StairMaster® cardio equipment. The best part is, you add (and pay for) only what you want, when you want. The future of club connectivity is here. The future is OpenHub™.
Available on 15" Capacitive Touch OpenHub Console Only
ENTERTAINMENT - IPTV compatible, or browse the web or stream content from a personal device.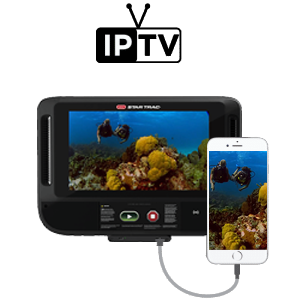 ASSET MANAGEMENT - Wirelessly monitor all your equipment in your facility.
FITNESS TRACKING / COMPETITION - Use data capture & leaderboards to track efforts in real time then save & share your results with the apps you use the most.
OUR CONSOLE. YOUR WAY.
The OpenHub™ family of cardio consoles offer solutions that meet the unique needs of every facility. The flexibility of the console allows for additional features to be added at any point, meaning you can get and pay for what you want, when you want it. No other manufacturer offers the affordable range of connectivity as StairMaster and Star Trac.
SPECIFICATIONS:
| | |
| --- | --- |
| User Weight Capacity: | 514 lbs (233 kg) |
| | |
| --- | --- |
| Product Weight: | 450 lbs (205 kg) |
| | |
| --- | --- |
| Speed Range: | 0.5-12mph (0.8-19kmh) |
| | |
| --- | --- |
| Belt Width: | 22" (55.5 cm) |
| | |
| --- | --- |
| Compatible With 8-Series PVS Entertainment Screens: | Yes |
| | |
| --- | --- |
| Contact And Telemetry Heart Rate: | Yes |
| | |
| --- | --- |
| Multiple Holders For Water Bottles And User Devices: | Yes |
| | |
| --- | --- |
| Electrical Requirements: | 110V/20 Amp dedicated circuit with NEMA 5-20 outlet; or 220V/15 Amp dedicated circuit with NEMA 6-15 outlet |
Star Trac 4 Series Treadmill Warranty
Residential Warranty:
Commercial Warranty:
---