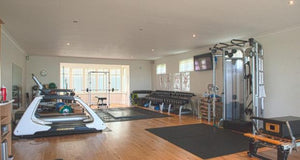 Questions You Should Ask Yourself Before Buying Fitness Equipment
With so many different fitness solutions available, it can be confusing trying to decide the right equipment for your workouts. Don't worry – Ultimate Fitness Outlet can help.
We polled our experts at Ultimate Fitness Outlet to learn the most important questions you should ask to determine the best fitness equipment for your home gym. See the answers below:
(1) What do you want to achieve?
Because your goals should guide your fitness equipment purchase (and not the other way around), it is critical to first determine what you want to accomplish with exercise before starting to research equipment options.
There is no 'one size fits all' fitness product that will be the perfect match for every fitness journey. Instead, We tell my clients the only "essential" equipment is what you routinely use. For example if you are new to exercise, or getting back into fitness after a long layoff, your best fitness tools might be very different from someone who has been training for years and is looking to beat their PR. Your focus should be on finding the right fitness tools at each stage of your journey that support getting you to the next level you want to achieve.
Start by asking yourself: "what am I looking to accomplish in regards to my personal health?"
– Do you want to improve your health from an injury or medical problem? 
– Are you trying to lose weight? 
– Do you want to increase your endurance or conditioning? 
– Are you wanting to live a healthier lifestyle so you can keep up with your grandchildren? 
– Do you want to beat a personal record?
Understanding "why" you are exercising will influence the correct "how" to achieve your short-term and long-term goals. This will allow you to find the right fitness equipment for your specific workouts and goals.
(2) What are my physical limitations?
Do you have any ailments or physical limitations and restrictions that prevent you from safely completing certain exercises.
We always start consultations by first understanding any physical restrictions my client has. For example, if We are working with a client who experiences lower back or joint pain I can recommend effective low-impact workouts like a Recumbent or Upright bike, elliptical, resistance bands, or the TRX suspension training. Basically, anything that doesn't require your body (legs and knees particular) to fall with impact against a surface, such as a treadmill. If weight bearing is out of the question you can consider the Octane Xr6 recumbent elliptical. It enables you to get a full body workout while sitting down. If you want to combine strength and cardio, consider the Cybex Arc Trainer. It's safe on your joints and allows you to both build strength and perform cardio at the same time.
Injuries and limitations don't mean that you can't find your perfect fitness equipment solution to achieve your fitness goals. But, it does mean that you need to work with an equipment expert to determine the best equipment solutions that accommodate your body while providing an effective workout.
(3) What activities do you enjoy?
Forget the workouts you "should do" or that are deemed "the best". Think about what makes you happy and what you like doing.
We always ask our clients what physical activities they enjoy. The best workout is the one you consistently do, and it is easier to stay committed and motivated to exercise if you have equipment at your disposable that you enjoy using. If you hate running, why would you consider a treadmill? Keep your personal fitness goals the priority, and choose the equipment that you are going to be most motivated to use on a regular basis. Purchasing quality fitness equipment for your home gym is an investment. It is a waste of your time and money to buy fitness equipment you don't end up using.
The best way to stay inspired by your workouts is to tailor your home gym equipment to your interest and goals.
(4) Who else will be using the equipment?
You have your own set of goals, limitations, and preferences. If your equipment is going to accommodate additional users, you'll need to also consider their unique set of goals, limitations, and preferences.
If more than one person is using the equipment, you might want to explore options that allow for multiple user profiles and preferences to tailor workouts to individual goals. Also, it's important that you shop equipment made with more durable components and a heavier frame. Multiple users create more wear and tear on equipment and stronger equipment will handle the higher volume of use. Cardio options that offer a wider range of workouts, like ellipticals or cross trainers, tend to satisfy the needs of many users by acting as great low impact cardio workout that can be used as a strength workout (with increased resistance). Additional cardio equipment that is a good option for use by multiple people is equipment designed with a variable stride length feature, because it allows for the customized fit for the various heights of different users.
Ultimately, there's no cookie-cutter solution to this question – it all depends on who you plan on having use the equipment. But, once you identify the needs and goals of everyone planning to use the equipment – you can begin to narrow your equipment search. 
(5) What space are you dedicating to your home gym?
It is important to know WHERE you will workout, before deciding on the HOW with fitness equipment.
You should plan how much "active space" you will need for the equipment and any other fitness related activities you will be doing. Knowing how you want to use your workout space is imperative to determining the right equipment. Do you prefer to only work out on machines, or do you also want space for stretching, plyometrics, or free weights? It is important to dedicate a space that you look forward to being in, and inspires you to workout. If you tuck your equipment away in a spot that is not convenient to access, or a room you don't enjoy being in, you may not use it as frequently as you intend.
If your available home gym space is on the smaller side you can explore versatile multi-functional equipment options that allow you to work a different muscle groups with one piece of equipment. Or, compact cardio equipment that is designed for a small footprint. If you have the space for a larger home gym, you can include a wider variety of equipment including, free weights, mats, resistance bands, and cardio and functional strength pieces.
(6) What are the restrictions of the space you are using for your home gym?
Once you determine your dedicated fitness space, it is important to understand any restrictions the space may present. Both the dimensions and location of the room can present obstacles to specific fitness equipment.
Some pieces of equipment may not allow you to utilize your gym optimally. So it is important to consider;
– What are your ceiling heights? 
– What are the dimensions of the room? 
– Do you have doors that open inward or outward? 
– Do you have any noise restrictions? 
– Is your floor protected from dropped weights and heavy equipment? 
– What type of access do you have for the delivery of your equipment? 
– Do you have the correct electrical outlets for your equipment?
Ultimate Fitness Outlet can assist you in mapping your home gym with recommended solutions. Approaching home gym design ultimately depends on your health goals. For example, if you need a specific piece of equipment, for a specific goal, then we can look at ways to make it fit comfortably. We also tell clients – your fitness goals do not care about interior design. If the equipment will fit, put it in a place you enjoy being in your house. Forget the idea that equipment should be stored where it is kept out of the way, as it would be out of the way for you to use at that point as well.

 
(7) What equipment have you personally TRIED?
Only by trying, working out on, or testing gym equipment will you have a real sense of the differences among various the machines. Each brand uniquely constructs their equipment to enhance the experience and outcome of workouts – but their end result can vary. Design features that may feel natural and comfortable to one user may feel awkward to another. At our Ultimate Fitness Outlet showroom we allow fitness fans to test a wide variety of industry leading fitness equipment - in fact we encourage it!. We are dedicated to curating the best lineup of available fitness equipment – meaning, whatever you choose will be a winner. 
You don't really know if you like a machine until you get on the unit and feel it. Trying equipment in person allows you to personally experience the differences in quality, features, designs, dimensions, aesthetics, fit, function, and comfort. There are vast differences in equipment that may actually look fundamentally pretty much the same. Depending upon factors such as past or current injuries, or your natural movement, will influence the right product for you. Fitness equipment much like people come in all shapes and sizes. It is very important to know before you buy that the piece will fit your body properly, the last thing you want is to get a piece home and it is uncomfortable to workout on.
It is important to note that while online reviews can be a tool in your decision making – you should not rely on them. Just because a machine was right for someone else, does not mean it will be right for you and your goals. It is impossible to understand the "feel" of the equipment from review, videos, or images.
Taking the time to analyze your dedicated fitness space, with your goals in mind, will help you determine the right equipment mix. You will not burn calories, tone up, or achieve better health simply by installing equipment in your house. You have to use it and make it a consistent part of your healthy lifestyle.
Now that you know the important questions you should answer before purchasing fitness equipment it is time to get started building your home gym! 
Connect with one of our fitness equipment experts at Ultimate Fitness Outlet to have a fitness matchmaker guide you to the right equipment solution for you. We will work with you to strategize your best home gym so that you can feel confident you made the right choice for you.
Call Us Today at: (707) 978-2555 or visit our local showroom at 5665 Redwood Drive, Rohnert Park, Ca 94928 and try out our large selection of quality fitness equipment in order to buy what is right for you.

---