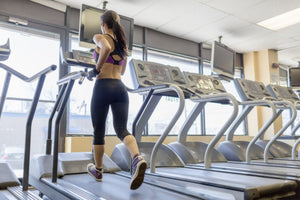 How To Avoid Common Mistakes While Using a Treadmill
Running has numerous health benefits, and adding a treadmill to your home gym arsenal means you can workout regardless of the weather, create more challenging workouts that burn more calories, customize your training to be more versatile, and develop your endurance.
You buy a treadmill because you want a fitter and healthier life, but don't let common treadmill mistakes derail your progress in reaching your fitness goals.
BELOW IS A LIST OF TIPS TO HELP YOU MAXIMIZE YOUR TREADMILL WORKOUTS:
Treadmill Mistake – Not Mixing Up Your Workouts
If you hop on your treadmill and consistently do the same workout, at the same intensity, you will hit a plateau. To avoid a fitness plateau, and to keep working towards your fitness goals, mix up your workouts.
One way to keep your body guessing is to modify the duration of your workouts, increase the frequency, or adjust the intensity. The benefit of keeping your workouts varied is that it bring new challenges to your body which helps to build endurance and muscle efficiency.
Another excellent way to get a cardio workout without running is to cross-train. The goal of cross-training is to provide a cardio workout, that burns calories, and complements your running goals. The benefit of low-impact, cardio workouts is that they provide a variation in your workout, while giving your muscles, joints, and tendons a slight rest.
See why the Cybex Arc Trainer is a favorite tool of fitness professionals for providing a full body cardio workout while minimizing the impact to your legs.
Treadmill Mistake – Placing Priority on Being Entertained, Not Working
Yes – newer home treadmills are built to be more technologically advanced.
Yes – additional treadmill features are helpful to keeping you engaged in your workouts.
No – don't let the combining fitness with entertainment let you forget to put the "work" in "workout".
Using the features of newer treadmills, such as fitness apps, bluetooth connectivity, music, television, or the ability to read while working out, can keep you engaged in your workout. But, if you are working at a more leisurely pace to accommodate your entertainment – you won't hit your fitness goals.
However, harnessing the power of technology to fuel your fitness motivation can take your fitness to the next level. For example, BH Fitness treadmills offer interactive equipment features like Run on Earth's virtual trails, which provides variety to your indoor workout, keeps you moving, and allows you to take a virtual tour without leaving your house.
Treadmill Mistake – Not Using Interval Training
You burn more fat and develop your endurance if you mix tough sessions with easier ones. For example, having run/walk workouts or mixing sprints with jogs will provide variations in your workout routine that help you work toward your fitness goals.
Treadmills have 2 variables – speed and incline – and a lot of people forgo the use of the incline in their training. A major difference between running outdoors versus indoors is the variations in terrain. When you use a treadmill indoors you don't experience varied terrain (or wind resistance) and mixing up the incline as well as the speed will help account for this.
Many home treadmills offer ready to use, tailor-made workout programs. Using the pre-built programs provided in your home treadmill will help you to take the guess work out of your interval workouts. For, example The TRUE PS800 Treadmill offers a customizable fitness experience with challenging workout programs for any level.
The benefits of running on a treadmill are vast; high calorie burn, weather conditions won't impact your workout, you can monitor your workout intensity and it can be safer than running outdoors.
If you are looking to purchase a treadmill for your home gym, call one of our experts at Ultimate Fitness Outlet for a complete guide on how to buy the best treadmill for your fitness goals. We can work with you to determine which treadmill is best for YOUR home gym.
Call Us Today at (707) 978-2555 or visit our showroom located at 5665 Redwood Drive Suite F, Rohnert Park, Ca 94928 and try out our wide selection of treadmills for yourself so that you can buy the one that is right for you.
---